Hello! Today I'm sharing the fourth bonus block for the Midnight Moon Quilt Along. This block is called Spooky Skull! Even though it is the most complex of the bonus blocks, it's also my very favorite!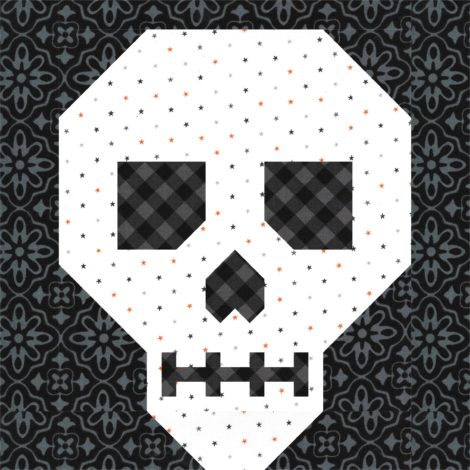 If I were going to make a full quilt out of this block, I know just what I'd do….a little tweak to a few of the blocks to make them a little more….suave? And I've got myself a cheeky Skelly quilt that will make me laugh every time I see it. ;)
A few tips for making this one? Take your time and enjoy the process. There are a lot of tiny pieces, but the steps themselves are simple. If you go slow, you can do it, I promise!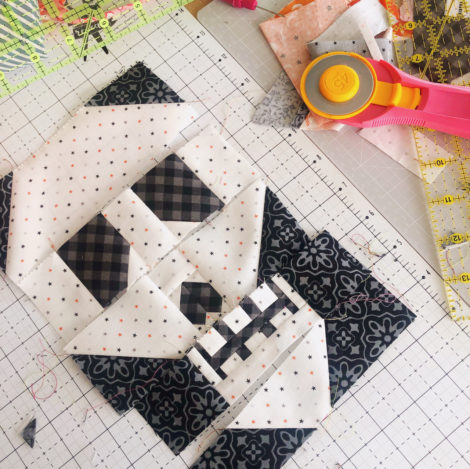 If you get all the way to the end of the block and find that it isn't quite big enough, add wider borders to top, bottom, and sides, and trim up to 8 1/2″. It will still look great! Be sure to use #spookyskullblock if you decide to make this—I'd love to see yours!
I hope you're having so much fun with the Midnight Moon Quilt Along!
Download the free printable block here:
Spooky Skull free Halloween quilt block pattern
And finally, if you're looking for more scrappy fun to add to your Midnight Moon quilt, there are only FIVE bundles left of the original Midnight Magic (out of print!) in my shop, while supplies last. There are several different bundles so go browse and snag one while you can!
Get the bundles here: Midnight Magic Fabric Bundles
Be sure to follow along with me on Instagram, I may have a few more Halloween blocks up my sleeve…
xoxo
April
If you're on Instagram I'll be sharing blocks using the hashtag – #modamidnightmoonqal.
See you next Saturday!
————————————
If you want to get started and follow along, head over to Moda's post for all the info: